Description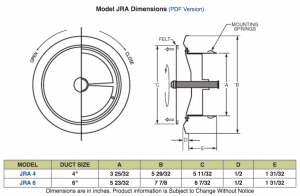 The JRA Adjustable Plastic Grille offers excellent architectural styling for low flow supply and exhaust applications. Designed for ceiling and wall mounting, it provides an integral, readily-accessible airflow adjustment in its intalled position. The high density plastic construction is virtually corrosion-proof and is ideal for use in high humidity indoor installations, such as bathrooms, showers, and dishwashing areas.
Material

ABS Resin
Finish

White
Sizes

 6″
Features

Contemporary Design Goes with All Decors

Low Silhouette, Unobtrusive Profile

Infinite Adjustable Core for Volume Control

Omnidirectional, Low Diffusion Air Patters

Concealed, Spring Clip, Fastening Mechanism

Available for Standard Duct Sizes

Positive Sealing Core-to-Body Mount

Wall or Ceiling Mountable*
*Recommended use of (3) No.8 screws through body into duct wall to ensure positive connection in ceiling application.
Typical Applications

Fresh Air Intake

Ventilation for Interior Locations

Residential, Commercial, and Marine Applications

For Use With Ducted and Unducted Systems

Bathroom Exhaust & Supply Applications