Fresh air is a commodity that everyone needs and wants. Who doesn't like to breathe fresh air? Generally, the best source of fresh air is the outdoors. But since most of us don't live outside, we can still supply fresh air to our homes by opening windows and doors. However, we all know it's neither cost-efficient nor wise to leave our windows and doors open during the cold winter or hot summer.
Many older homes are leaky enough that fresh air enters through all tiny cracks and holes in the walls and around the windows and doors. With high-performance homes, the foundation is to build it air-tight and add ventilation. The catch phrase is, "build it tight and ventilate right." But how exactly do we "ventilate right" in an airtight home when our objective is to keep cold air out in the winter and cool air in in the summer?
We must mechanically bring in fresh air. The Build Equinox CERV system does just that. The CERV recirculates air, brings fresh air in and removes stale air while offering both heat recovery and air filtration. Put simply, the CERV makes sure you have fresh, filtered air and keeps heat where it belongs, in or out based on the setting on the unit.
Designed with sensors to detect VOCs (Volatile Organic Compounds) and CO2, the CERV will "smell" the air and put itself into circulation or ventilation mode appropriately based on the sensor readings. The VOC and CO2 levels drive the demand of the unit based on the thresholds the owner programs on the unit.
A CERV returns air from rooms such as the baths, the kitchen and possibly other rooms that might have more "smells" or humidity such as workout rooms, laundry rooms, etc. It brings that air back to the unit to either simply filter/recirculate it or to replace it with fresh air from outdoors while exchanging the heat that is in the air.  In the winter, it keeps heat in and in the summer it reverses the process and keep heat out of the building.
One of the more unique features of the CERV is that it uses a heat-pump to move heat to the incoming or exiting air stream.  While it is not meant as a primary source of heating or cooling, the CERV actually provides a small amount of heating or cooling capacity.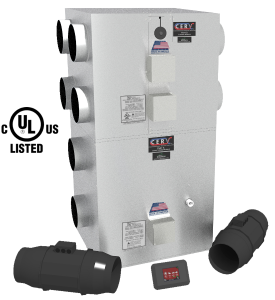 Components of the CERV System:
Heat-Pump Module (A)
Module A of the unit heats, cools, dehumidifies and exchanges energy between incoming incoming(fresh) and exiting(stale) air streams, with no low temperature operation restriction.  Most H/ERV's require some kind of anti-freeze function or capability.  This is not necessary with the CERV.
Fresh Air Control Module (B)
Module B of the CERV houses the electronics, integrated pollutant sensors (CO2, VOC, temperature and humidity) and damper, and this is where the CERV intelligently monitors air quality and activates fresh air ventilation. When fresh air is not needed, recirculation adds heating/cooling to unify comfort and indoor air quality. Also, the Fresh Air Control Module is fully insulated with no thermal bridges. It has a very user-friendly color touch screen controller with large print, easy to navigate control and status screens. The controller can also be placed anywhere in the house. In addition, it has an option to connect to the Internet, through the CERV-ICE Online Gateway, making it possible to control the system directly from a smart phone, tablet or computer.
Inline ECM Supply & Exhaust Fans
These are variable-speed ECM fans which balance air flow efficiently, supplying fresh air to the occupants and exhausting polluted air from house.
Inline Filter Boxes
These boxes remove air contaminants from incoming air to the home and are placed where fresh air enters. The CERV uses common filter sizes which can be purchased from several sources.
An important fact to consider in fresh air ventilation is the natural atmosphere CO2 (carbon dioxide) level of outdoor fresh air is 400 ppm (parts per million CO2). At more than 900ppm, a person's mental performance, sleep quality, and productivity decreases. Currently, the indoor air quality ASHRAE standard for newly constructed homes is 1100ppm! If that is the standard, then we can clearly see why our air quality is a problem (source: https://ehp.niehs.nih.gov/1104789/). The good news is the current average indoor air quality level for homes in the CERV community is 686ppm.
Also note that some homes integrate various accessories that accomplish various objectives.  For example, booster switches can be added to bathrooms and kitchens to help evacuate humidity and pollutants from those spaces.  In addition, there are accessories that either help to pre-condition the air as it comes into the CERV from outside or to heat the air after it leaves the CERV.  Please contact us for more information on these accessories.
In summary, as part of the high-performance home or any home for that matter, the Build Equinox CERV system makes good sense:
Fresh, clean air for the family
Recovers heat/doesn't lose it
Provides health benefits of reduced CO2 levels (improved brain function, sleep quality and productivity), lowered pollutant/contaminant levels of things we bring into our home (i.e. off-gassing of new items we purchase, paint fumes, as well as pollutants created within the home, such as cooking odors, bathroom and laundry room odors or pet odors).
If fresher, cleaner air in our homes is the goal, then a Build Equinox CERV home makes next-to-outdoor fresh air in a home quite achievable.
For more information about the Build Equinox CERV, call us at 720.287.4290 or visit our website https://aebuildingsystems.com/product/build-equinox-cerv/.
Source: buildequinox.com