You may not have asked for construction products for the holidays this year, but that's what you got under the Christmas tree! As we start off another great year, we're all excited about the latest and greatest from SIGA. We know this means even better construction and energy savings in projects to come. These products make for big energy savings, big-budget savings, and even more comfort.
Why do we carry SIGA?
SIGA carries a versatile line of products for the construction industry and building envelopes. Their products avoid spray applications and also avoid toxins such as chemical dyers, formaldehyde, solvents, and harmful resins. This family business started in Switzerland in 1965 and is focused on research and development to always push the thermal envelope! SIGA products are also proven products to help with Passive House design and construction. Whether you're building to these standards, or you just want a more energy-efficient space, SIGA products are a winner!
AE Building Systems has carried SIGA products for years, which is why we're so excited to share the latest and greatest in their innovative products.
Here's an overview of the newest SIGA products:
Ready to seal out the elements in a sleek way? The Majvest 700 SOB is ideal for open facades with gaps up to 50 mm and maximum surface share of 40%. As designers start to add in more and more intricate exteriors with openings and reliefs, the construction behind the pretty face of the wall needs to hold up. The Majvest 700 SOB product allows you to do just that. This product is also UV stable, making it an ideal product for any side of the building and in multiple different climates.

Click HERE to learn more about this product.

If you are thinking of using the Majvest 700 SOB, you'll want to consider looking at the Wigluv Black product too. This black single-sided high-performance tape is perfect for sealing facades and membranes, especially where the Majvest 700 is involved. This product was designed to work well together and allow you to get a solid seal across any kind of wall shape.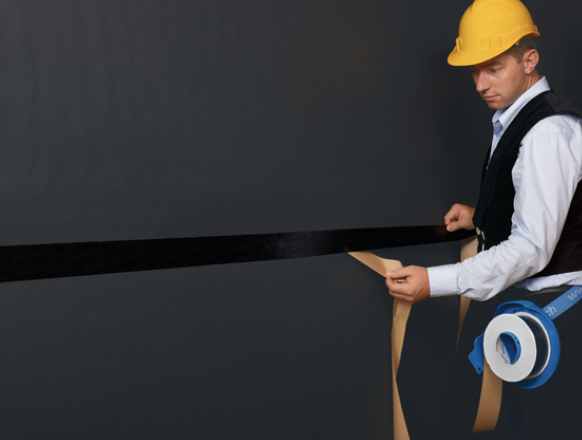 SIGA Wigluv Black tape is great for any range of temperatures, and is ideal in areas where there are big swings in temperature throughout the day or year. It can handle it all! The black color makes for a seamless, UV-stable product that holds up to fading and aging. This product also has a low perm rating, making is impermeable to water, yet can diffuse water vapor, eliminating condensation risks. If you're thinking about building a Passive House, this product is your best friend!

Click HERE to learn more about this product.

We love Wigluv – so much we're talking about it again. This one is the white version and it now comes in 12" widths! That's rulers upon rulers worth of seal-tight goodness any Passive House lover can get excited about. Even if you aren't a Passive House nerd like we are, if you're just looking for any level of energy efficiency, the wider Wigluv tape is a big deal!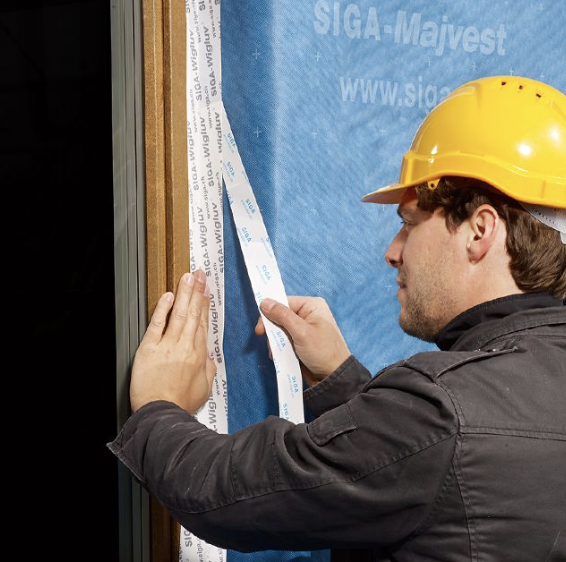 Wigluv has a reputation for being an extremely sticky acrylic sealing tape, yet low-profile and versatile. This product has a unique vapor-permeable polyolefin (PO) film, pressure-sensitive glue, and reinforcing mesh, allowing it to bond with difficult substrates and in extreme climates. Now with a wider area of bonding, the seal is even more secure, making it a great product for Passive House design and energy efficiency where thicker wall assemblies are used.

Click HERE to learn more about this product.
Attention: Product Name Change!

We all know windows are notorious for energy loss, which is why we are big fans of SIGA's Fentrim 230 grey adhesive tape. This product was specifically designed for windows and door frames to seal exterior component joints. The adhesive tape is ideal for solid structures and metal structures, but can work with a number of different substrates and applications. If you've used the Fentrim F product, you'll find that this is the new product to look for now. Also, this now has four months of UV exposure and comes in 4", 6", or 9" versions. It's designed to be even more versatile and designed to help make these complicated openings in a building more of a breeze to build, while keeping the breeze out of the construction.
Click HERE to learn more about this product.

Attention: Product Name Change!

Previously known as Fentrim IS 2, the Fentrim 430 Grey is a winner for so many of our customers. This adhesive flashing tape is fleece-backed, yet semi-permeable. The polyolefin (PO) material helps resist abrasions to the flashing tape, while allowing it to remain pliable (even in extreme temperatures). It works great with proven adhesion to cured concrete, wood, and metal. It comes pre-folded in 75mm, 100mm, and 150mm versions to fit whatever project you have.

Click HERE to learn more about this product.
Still have lingering questions about these new SIGA products—let's talk! We're always happy to help you find the right product for your next project and understand the differences.