ThermalBuck Basics For Energy Efficiency
"There's got to be a better way!" Have you ever thought to yourself? So many of us in the world of construction become miffed when it comes to dealing with the problem spots in construction like window and door openings. No, this isn't an infomercial, and we aren't going to incentivize you with a set of knives, but there truly IS a better way to build out windows and openings, and ThermalBuck is a huge part of that.
ThermalBuck is a product designed to enhance the construction of rough openings. It solves varying problems in window installation, especially when working with continuous insulation and/or rainscreens. ThermalBuck extends the mounting point of doors and windows to help create a flush plane. It extends the rough opening for a window or door, but limits a common thermal bridge within the building envelope. ThermalBuck is easy to install and flash and is a true continuous insulation option for builders. 
ThermalBuck is also coated with a waterproof resin and is affixed to a rough opening with an air & water barrier sealant along with nails. It doesn't warp or shrink with moisture, and also provides extra support to the weight of a window.

Why is ThermalBuck needed?
Traditionally, a wood buck is used to extend the mounting point of a window to create a flush plane. However, wood can shrink, warp, or even rot over time. Wood is also not an ideal insulator, allowing thermal bridging around each opening, whether a window or door. Wood bucks can only do so much, and can lead to other issues for energy efficiency, condensation, and eventual moisture damage. Ultimately, this is a contributing factor to why there can be so many expensive repairs related to window and door damage. Wood bucks are helpful, but only go so far. With the ThermalBuck, we see an innovative approach that actually provides more long-term benefits to the end-user.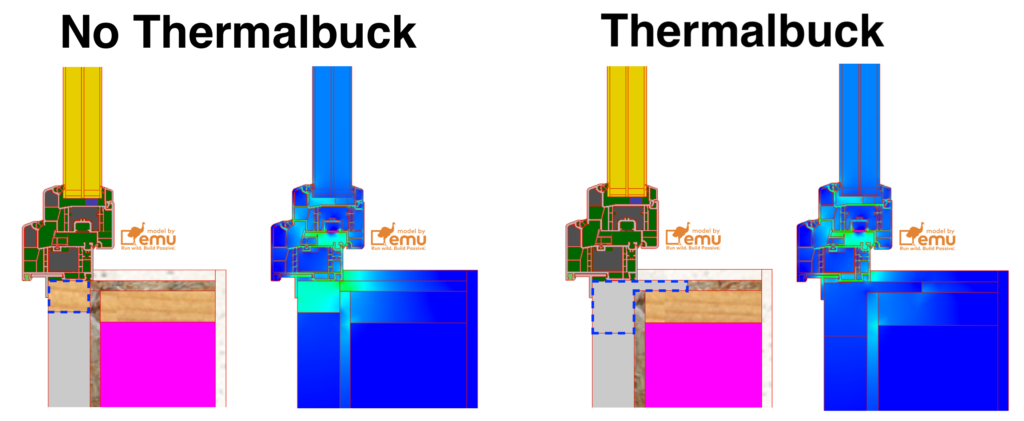 How is ThermalBuck beneficial?
Can you build window openings without ThermalBuck? Sure, you can. But, why would you when there's a better way? The ThermalBuck product is so helpful when it comes to preventing heat and energy loss, that we've come to see it as a given around here. Here are just some of the main ways it's so helpful in energy-efficient construction:
Easier to install than traditional wood buck designs (Watch how it installs here)
High-performance window installation solution
Verified for Passive House installations
Maintains the integrity of the window installation with a dimensionally stable solution
Simplifies flashing and adds an additional water/air barrier at the rough opening
Available in multiple depths to match the projects needed depths.
One solid piece, compared to multiple pieces of wood in traditional wood buck installs
R-value of 4.4 per inch
How Do I Use ThermalBuck?
ThermalBuck is not necessarily something we carry alone. Instead, it's a product that is paired with our Alpen window orders. We work with so many people who care about high performance and reducing thermal bridging in a project that we see these two products pair together seamlessly. That said, you can get ThermalBuck in depths of 1.0" to 4" depending on your needs, and Alpen currently stocks 2" and 2.5" depths. This allows you to use a quality product and get a premiere result.
ThermalBuck & Passive House Design
In Passive House design, the focus is on energy efficiency, especially at areas of weakness like openings and corners. That's why we love the ThermalBuck products because they eliminate so much of the thermal bridging that normally occurs at these openings. While there are various angles on ThermalBuck and how it relates to Passive House design, here's a more in-depth review of the product in relation to sustainable design. One thing we can all agree on is that ThermalBuck is a better alternative to traditional wood buck designs if you are building for energy efficiency.
At AE Building Systems, we're always working to educate our customers so that they can build with the best resources and processes possible. ThermalBuck is just one of these amazing products that make building a Passive House or building with an energy-efficient focus so much easier. Our team works with these products every day, and we're happy to help answer any questions you have about using ThermalBuck in your next project!
Learn more about thermal bridging and ThermalBuck here.