Modern Farmhouse With a Passive Twist: Profile on Greg Fisher's Millhaus
Long before the modern farmhouse was a trendy term on HGTV, an architect had a vision for design that had a connection to nature, history, sustainability, and all-around innovative design. Greg Fisher, architect based in Fort Collins, Colorado, embraced the concept with his home/office, which has become known in the Passive House community as an example of innovative design with sustainability at heart.
The Millhaus
Millhaus is a Passive House project that combines Greg's personal home, as well as an architectural office that was named for its history as a mill, and the nod to Passivhaus design. Built on the property of a former cherry mill, the 3200 sq. ft. structure became a collaboration between traditional, gabled design, modern aesthetics, and Passive House principles. The house marries traditional materials native to the original structures of the mill with more modern materials like steel. Greg's project truly personifies his belief that "aesthetics can be part of Passive House."
One-of-a-Kind Features
It's not every day that you run across a home that utilizes these features:
History: The property has a long-standing history as a cherry mill. This is a factor that added story and soul, and a starting point for Greg to launch his design. In fact, the kitchen pantry is modeled after the tool crib from the mill. Greg has plans to enclose that here soon, but at the moment it is just an open-shelving section of the home.
Unique Walls: The wall cladding on this house is actually tree bark shingles (a cradle to cradle product). Talk about a connection with nature!
Breathing Easy: Greg incorporated high-quality ventilation solutions to promote energy efficiency and healthy indoor air quality.
Fully Grounded: The home features a two-ton ground source heat pump, which contributes to a more passive approach to heating. The tax rebates aren't a bad incentive either! They also combined that with radiant floor heating.
High-performance Living: This home features a blower door test value of ACH50- 0.44. The lower the ACH50 values, the tighter the building. Greg's home ultimately is extremely air tight, maintaining temperature and climate throughout.
Goodbye Dry Skin: Unique to Passive air-tightness, combined with the use of an ERV in the house means that the house is kinder on the skin, especially in the dry climate of Colorado!
Passive House Products:
Greg's nod to the Passivhaus design in naming his project "Millhaus" does not go unnoticed to those of us in the Passive House construction community. This project is a fully certified Passive House project. His project features some amazing products:
Advantage Smartwin: Throughout the home, fixed, tilt/turns, and swing windows, as well as lift/slide doors were used. They feature Euroglass and offer high-performance design at the openings. They focused heavily on the window to wall ratio and measured that carefully to work with the orientation and sunlight.
Alpen 925 Series Windows: While Advantage windows were used primarily, there are a few locations where the Alpen 925 Series Windows were used. We've used these in so many projects and love not only the quality, but the maximum performance they deliver.
SIGA Air/Weather Barrier: Millhaus features the use of both Majrex interior system and Majvest exterior system for achieving the Passive House required air-tight standard.
Sequencing: Emu Building Science (Enrico and Mariana) provided sequencing assistance for the Majrex interior application. [Watch for a more in-depth examination of the power of sequencing on our blog!]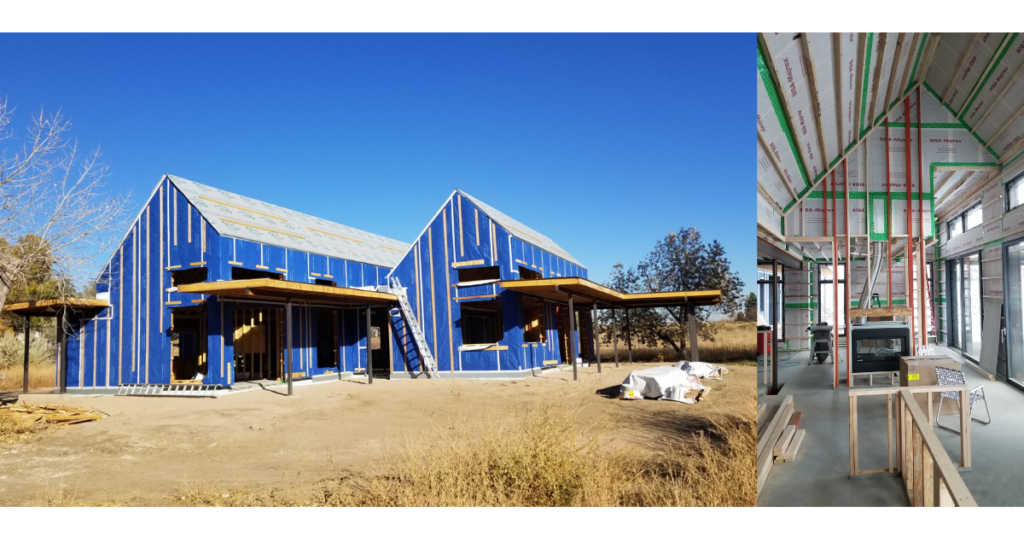 The Millhaus is a true example of how great design can meld with sustainable principles. If you want a Passive House design, you can still have an interesting and well-designed home. We love the innovation we're seeing come out of this movement, and we love helping our clients make innovative decisions for their next project. Talk to our team today and start brainstorming about how great design can truly be passive too!
Bonus!
We have the privilege of being able to hear directly from Greg Fisher about his amazing project. You can hear his approach and more details about the home on the BS+ Beer show's interview from Dec 11, 2020 – Millhaus: A Mild Climate Case Study