There are some pretty snazzy design ideas out there in the world. If you look at design contests, architectural school projects, or even just down your own street, you'll probably see some very beautiful designs that simply don't make a lot of practical sense. It comes back to the age-old question of form vs. function. Designers have been walking that delicate balance for thousands upon thousands of years, and in today's world, it's no different. Simply put: certain design attributes cause complexity with energy efficiency and force project owners to make hard decisions.
Complex Design Attributes: There are a handful of common design attributes that simply add complexity to the energy efficiency of a house. For someone designing a Passivhaus building, or just wants to be energy-aware, the question usually comes up and you have to decide between bump-outs that make the energy model more challenging and something that will help prevent energy loss.
Design Features: Bump-outs, cantilevered floors, dormers, knee walls, and more are some of the common culprits. Often, these are poorly insulated and add extra exterior wall surface area and seams in a wall or roof construction. All of these factors lead to energy losses due to air infiltration and thermal bridges.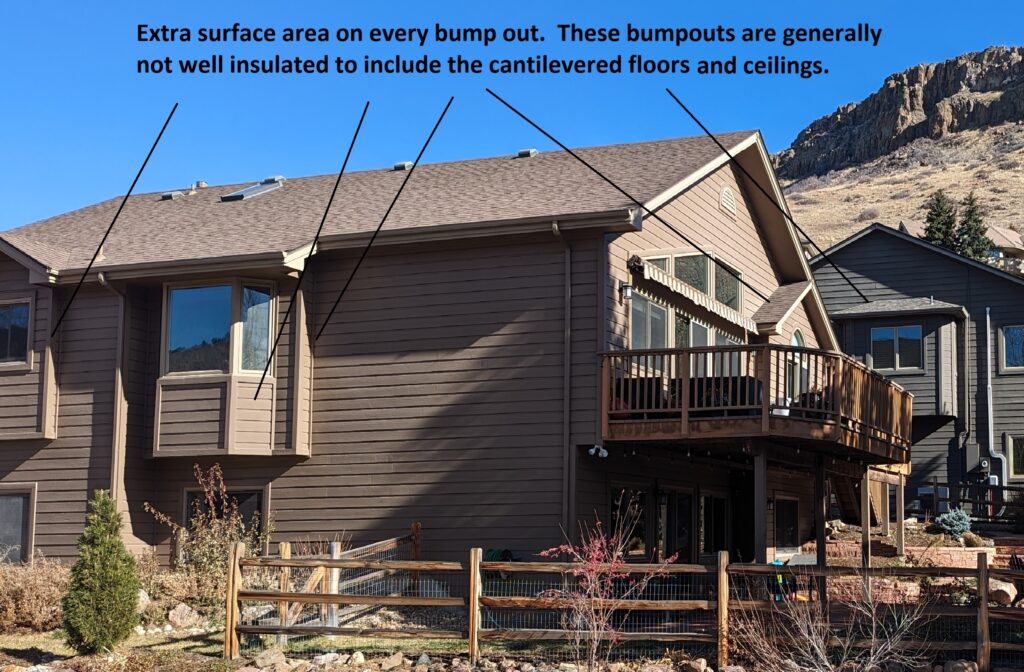 Conditioned Breezeways: Breezeways that are conditioned, heated, and cooled, are another common culprit for energy loss. While these are great for connecting parts of a home, they often have multiple exterior facades, increasing the potential for thermal inefficiency. The surface area to volume ratio is much higher in a breezeway than typically is found in the primary parts of a home.
Poor Orientation: Orientation of a home is often the last consideration, but especially in sunny climates like Colorado, the way a home faces the sun can make a big difference. Whether you're dealing with a room overheating or a spot in the home being too cold from lack of direct light (and heat) from the sun, it can make a difference.
How to Design Well, But Efficiently
Simple is Better: Every time you add a turn, an opening, or additional surface area to the exterior, you increase the potential for energy losses while increasing the complexity of how you will maintain thermal integrity at that juncture. Simplicity allows for higher performance than highly complex building envelopes!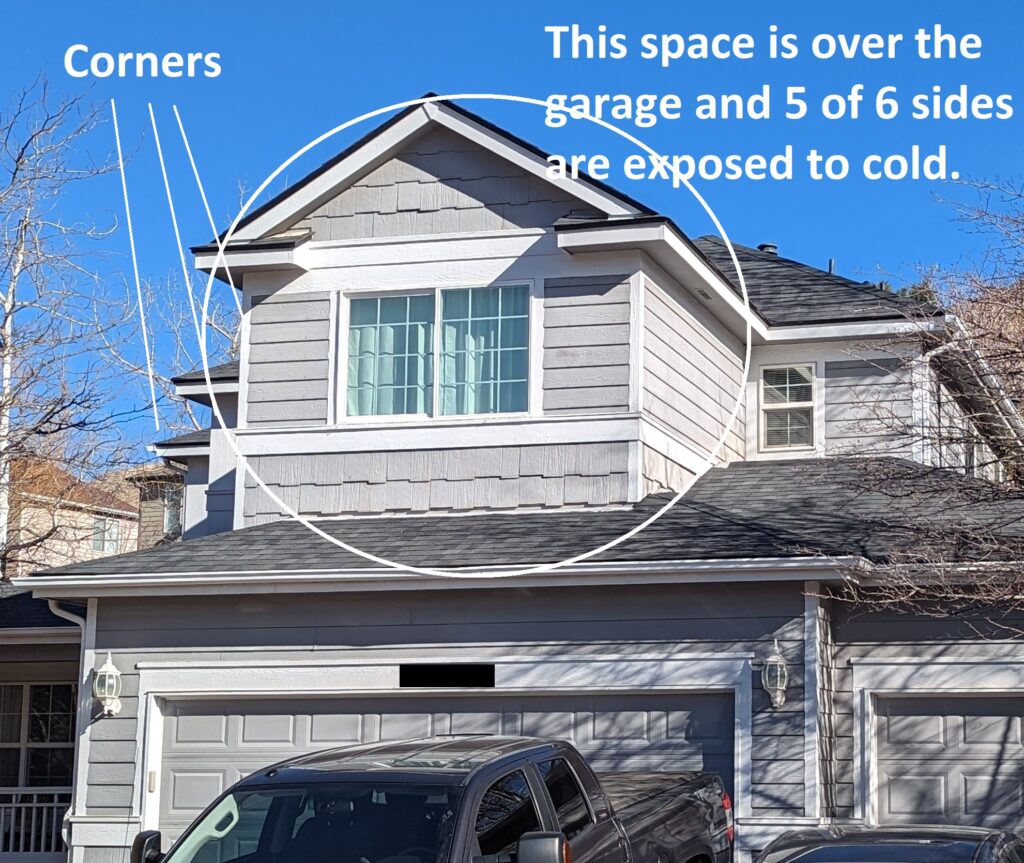 Orient Well: Take note of the orientation from the start. You'll want to consider your views as well, but keep in mind which side of the home will get the most sunlight and daytime heat. Also, think through where the windows will be positioned in relation to this orientation. It makes a big difference in states like Colorado where the sunlight can cause huge temperature swings for some spaces.
Materials Matter: If your overall exterior facades are fairly simple, you can still add some elements of great design and interest with the placement of unique finish materials and colors. Breaking up a facade with a few materials and complementary color schemes can add interest without causing extra energy losses. In fact, you can even incorporate these design material choices in a way that supports extra insulation (e.g. continuous insulation). Finish and insulation material selections can help protect a home even more from the harsh sun, wind, or outside temperatures.
Purposeful Corners: If you are adding complexity to your design with additional corners and bump-outs, make sure you are designing those weak points with intention. Proper design and use of materials to seal off and improve the thermal performance of these junctures is vital!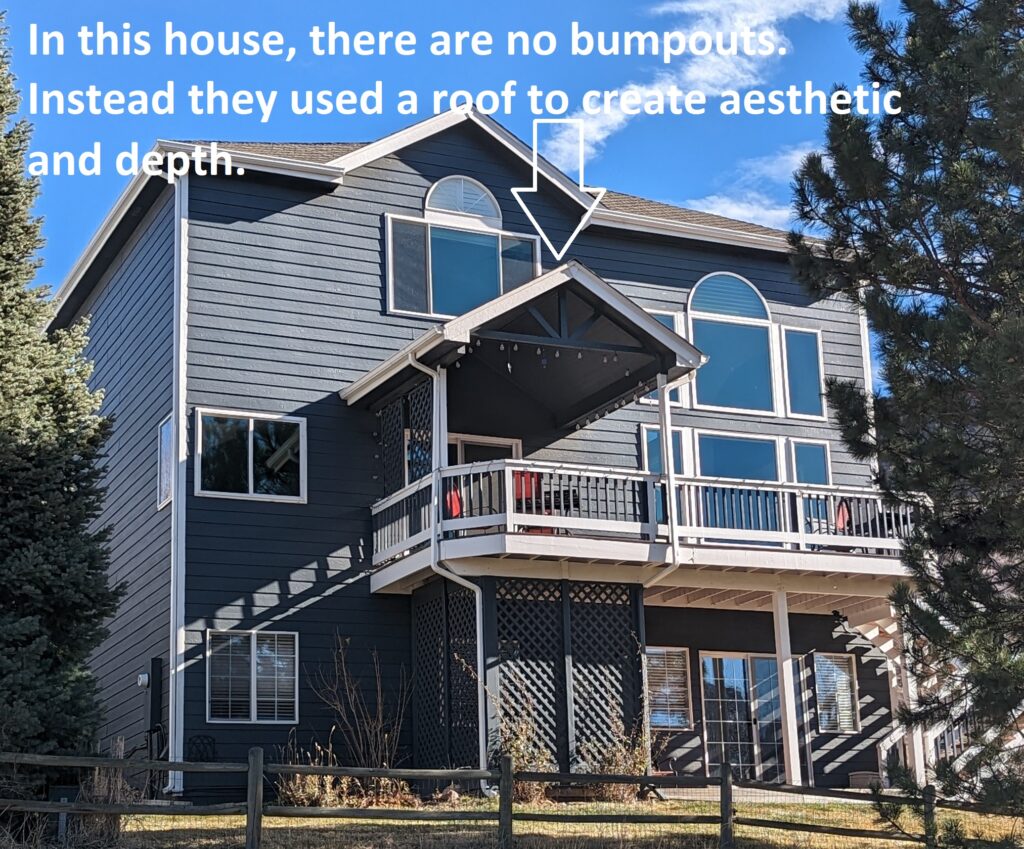 Exterior Living Spaces: Consider how exterior living spaces like porches, pergolas, and covered patios can allow depth and great design, while strategically protecting the home from energy losses.
Are we saying your house needs to look boring to be energy-efficient? Absolutely not! Some of the most efficient, sustainable homes we've encountered are true works of art. However, an energy-efficient home doesn't happen by accident. It must be a continual conversation between you, your architect, and your contractor to ensure any and all goals on the project are met.
As you consider these energy-efficient options for your home, make sure to keep our team involved in the process. We often help our clients find the balance between form and function so that your home is truly the energy-efficient work of art you've always dreamed of!